This is an extension of the first post, since I went over the character limit. Original post is here:
WTS - JNats to Fund Knifemaking Equipment
Only the sen size tomae and the honyama iromono are left. A few other stones are also SPF since people have messaged me about them. If the buyers drop out, then I will list them here. For all purchases over $300, I'll include little goodies as a thank you gift, you can pick between powder, tomo nagura, and koppa (while they last)
Picture of the powder and what it can do, for reference.
The remaining stones:
SOLD #7 Tamagoiro Suita 205 x 80 x 44mm. 1740g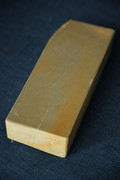 Soft suita, level 2.5. Again you get more of a hazy hagane, bit less contrast but very gentle on the eyes in exchange. Hard to describe, please refer to the pictures. It is a scratchless kasumi finish if done properly. There is a large bit of su near the bottom of the stone circled in orange, but you're not reaching that in your lifetime. There also appears to be a big line on one side, but it's only at the side. There is a picture with two red lines and a red circle showing how it runs. Overall a very beginner friendly stone, almost like cheating.
Pictures:
Album — Postimages
Asking: SOLD
#8
Hideriyama Tomae 160 x 64 x 15mm
SOLD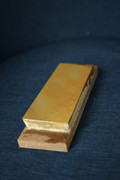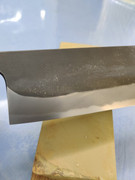 Another very soft stone. This one is a favourite of mine for removing synth scratches. It is fast and leaves a very consistent scratch pattern. I was not able to capture it in the polish pic (crappy example taken long ago), but it is a visible scratch pattern. Great stone for easy working kasumi
Pictures:
Album — Postimages
Asking: $70
SOLD
#9 Finer Aoto. 226 x 80 x 45mm (largest dimensions)
SOLD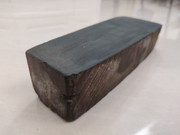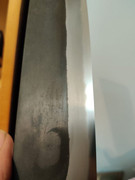 Medium in hardness, finer example of aoto. Not going to make any grit estimates, I've tried my best to capture the scratch pattern on camera, please judge from that. Blade road was taken to 5k on a Rika 5k, and then polished on the aoto for 5 minutes. Enjoyable to use, aggressive edges, smooth in use. Does not shed gritty particles when polishing, smooth nakato feel. Does not require diamond plate for slurry. Let me know if you can't see the scratches.
Pictures:
Album — Postimages
Asking: $150
SOLD
Last edited: